Week 2 Fishtown Recreation Center 1st/2nd graders learned about the great artist, Pablo Picasso!
We started out by reading Picasso Loves Shapes by Judiee Lee. We discussed the elements of art such as line, shape, and color. 
We focused on Picasso's artworks which featured guitars. We saw an image of his painting, "The Old Guitarist" which was created during his "Blue Period." We learned that Picasso not only made all kinds of art (paintings, sculptures, costumes, etc) but he also created LOTS of art – over 500,000 pieces of artwork in his lifetime! AND he also came up with his own way of creating art. Picasso is famous for many artistic styles, including "The Blue Period," "The Rose Period," and "Cubism."
I showed the group Picasso's painting titled, "Three Musicians." We looked at it closely and found instruments and sheet music almost hidden within. One of the students recognized it right away! He was so excited he was able to share his knowledge with the group, which made him confident in his artistic ability around his peers.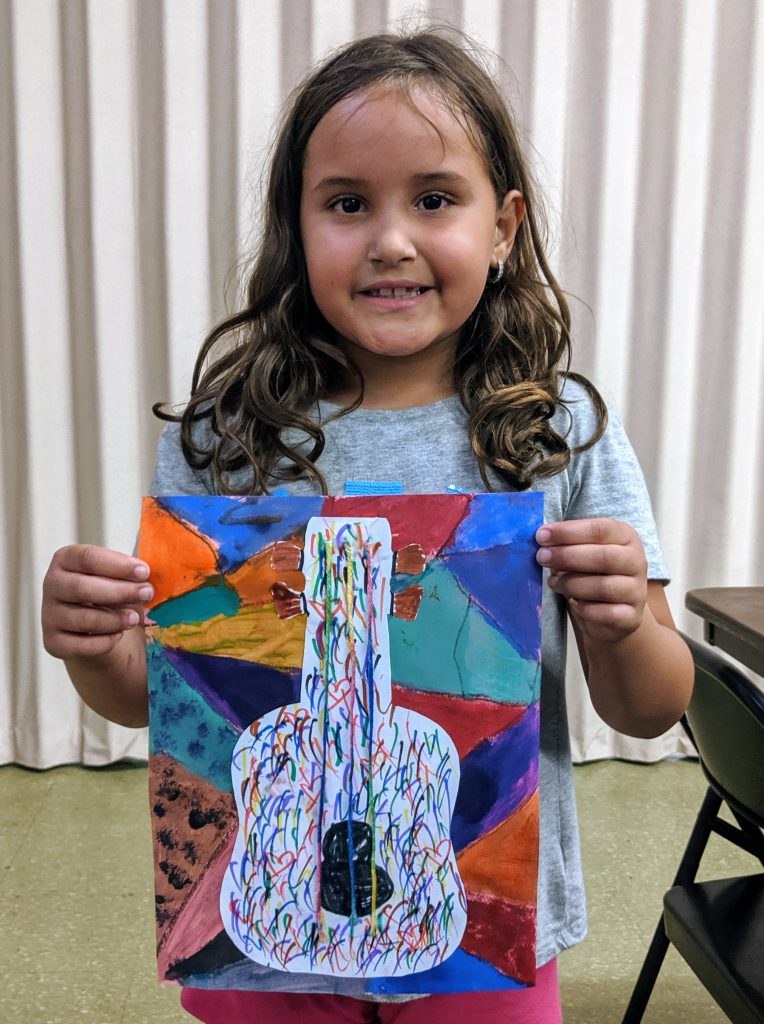 We first drew a geometric line design on our papers. I showed them how to draw a straight line until you 'bumped into something' and stopped. Then, I'd pick up my pencil, start it from somewhere and end when I reached a line or the side of the paper. The students could draw as many – or as few – lines as they liked. We were essentially 'breaking up the paper' into sections. We also noted it looked like stained glass.
After outlining our geometric lines and shapes in black marker, we used tempera cake paints to paint inside each shape.
Last, they decorated and colored the pre-cut guitar, glued it onto their backgrounds and I added string for a 3D element.