Week 2, Kindergarten students at Fishtown Rec Center learned about Pablo Picasso! Only ONE child in this group heard of Picasso, so they were excited to learn something new.
First, I read Picasso Loves Shapes by Judiee Lee. Then we discussed Picasso's life and artwork. We focused on Picasso's lithograph, "Bouquet of Peace," which shows a simple design of flowers being held (or passed) between two hands.
Next, the students traced one arm and hand onto construction paper. Then they cut it out and glued it to a background paper. We incorporated Picasso's love of shapes by painting circles anywhere above the pasted hand. I asked what the circle could be on a flower, and the students answered, "the middle!" Then then added petals growing out from each circle. A student incorporated the rainbow onto her flowers and a rainbow onto her fingernails! Another student added a rainbow in his sky. I heard lots of discussion on color choices and flower varieties. Students painted their rendition of tulips, sunflowers, and roses. One very talented student told me he loved art, and let me know he went to a special art class with his dad where they painted a city!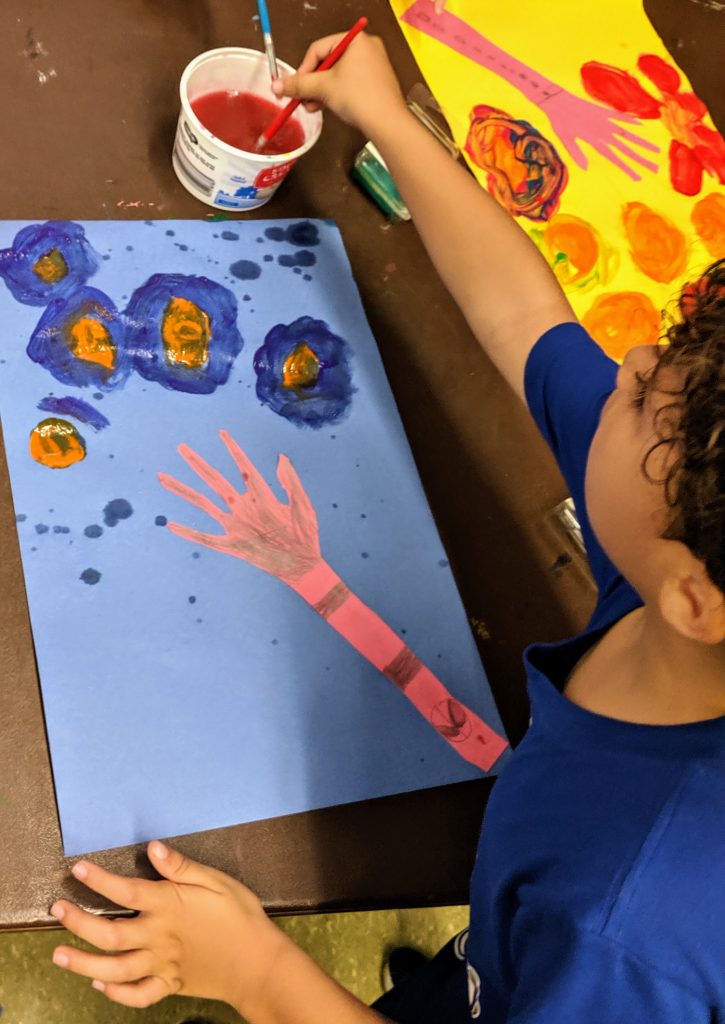 After they were done painting their flowers, the students used green to paint stems and leaves onto each flower. They were encouraged to paint the stem toward the hand as if the hand were holding the bouquet. Some students painted their arms and hands and turned them into a vase or flower pot! An overall fun, creative lesson Pablo Picasso would be proud of!