Abandoned Recreation Center Bathrooms made into an Outdoor Theatre
Before photo of abandoned bathrooms with 2011 dated graffiti, "Hard one", "F-word",  "Reks", "ABS" "TNT" Tags
We couldn't incorporate these tags into an appropriate youth mural. Above are process shots of the same space that was transformed into an outdoor theatre. Future plans include adding branches to the trees to connect with the indents in the walls.
Spring 2011
Sometimes it starts with brainstorming our wish list, finding others who share our ideals … and thinking about the smallest steps to work toward the direction of our goals and even asking for assistance. Through Art Sphere Inc., I have been lucky to work with many inspiring people who have allowed me to get so much accomplished this month. I feel really fortunate. Since I think its a feeling worth teaching, and don't always feel this way, I have been reflecting on what others say about luck.
"I'm a great believer in luck, and I find the harder I work, the more I have of it." – Thomas  Jefferson
"If one is lucky, a solitary fantasy can totally transform one million realities." -Maya Angelou 
"The harder I work, the luckier I get" – Samuel Goldwyn
 "Luck is what happens when preparation meets opportunity." -Henry Ford
 "I've found that luck is quite predictable. If you want more luck, take more chances. Be more active. Show up more often."   -Brian Tracy
 "Luck is a dividend of sweat. The more you sweat, the luckier you get." – Ray A. Kroc
"Luck is what you have left over after you give 100 percent."  -Langston Coleman
"Go and wake up your luck."  -Persian Saying
We have had plenty of good luck this month working with good weather, good friends, and strong community members and leaders; it gives me great pleasure to share these pictures of success.  For all of this I am fortunate and hope that on this day, you too will experience some feelings of "luck" because we all truly deserve to attain success.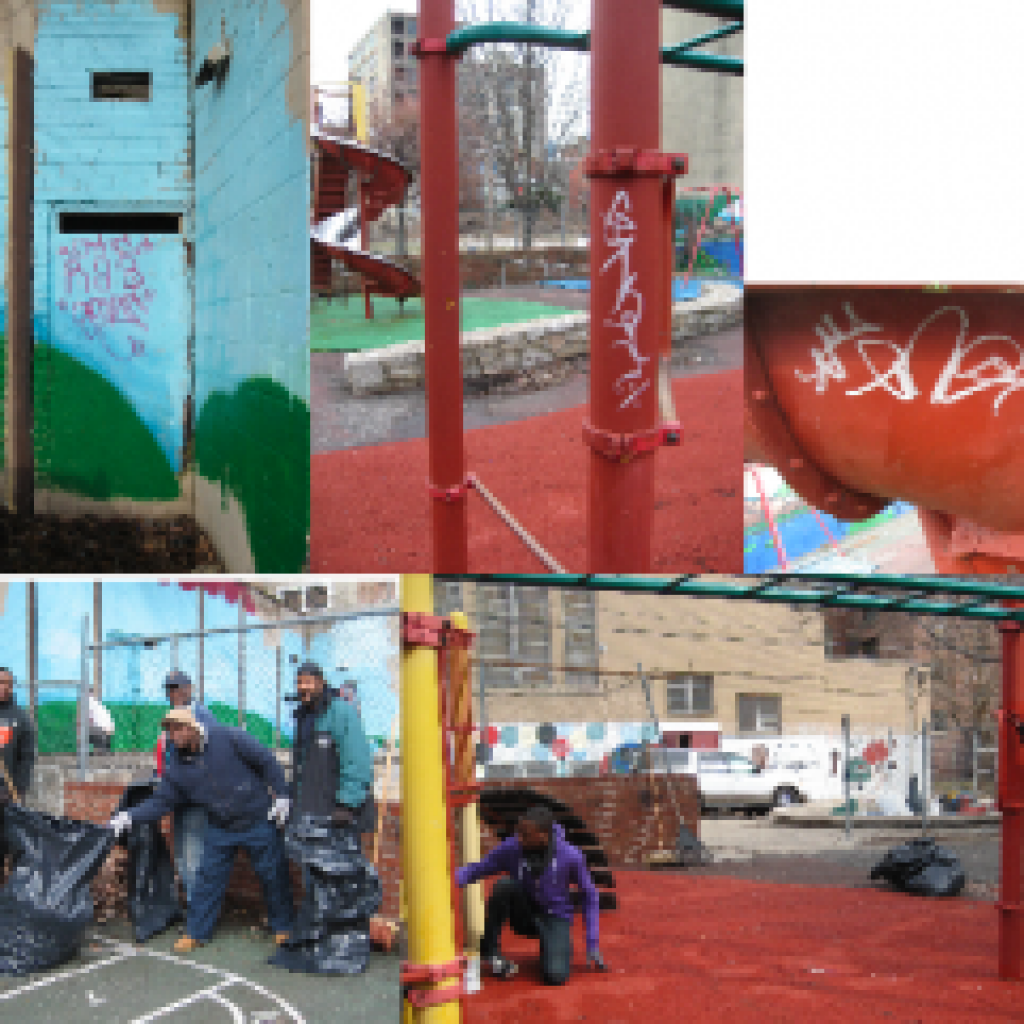 On Saturday, February 26 from 10am-5pm over 30 members of St. Paul's Men's Group removed all the trash, broken glass, furniture, leaf, and tree branch debris.
They also brought a $200 all-purpose outdoor garden trash can and lock to proactively support a cleaner park. Fences were mended, and plans were made to provide plants for St. Paul's Saturday Children's Class to start a small flower gardens in the empty squares cut out of the park where there were once trees. They completely transformed the space into a SAFE playground for kids. ABO Haven Day Care youth have already started playing in this park (previously, they were only allowed to eat snacks on the benches because there was too much broken glass and trash in the park.)
Meanwhile we finished painting the stage, a bench, parts of the fountain, and graffiti on playground equipment. We couldn't have done all that we did without the kids and Kevin, a college art student from St. Paul's, who were a massive help in painting. Our intern Alfred painted an inspiring portrait of St Paul's Recreation Center founder. We talked with neighborhood kids and invited them and other folks to join us… and you are welcomed too!
Volunteer Feedback:
"Thanks again for having this great opportunity for us Temple Students to do! "-Susu
"It was definitely a positive experience because it was so nice to see the quick transformation of a simple run down bench into such a vibrant and creative piece of art in the midst of a shady little corner." -Heather
"Everyone needs to know at some point in their life that sometimes people are just nice, kind, and caring, because they can be. I like that ArtSphere does such a lovely thing for broken areas. It is not only making the buildings beautiful but also the hearts of people who are touched by this art." -Stacy