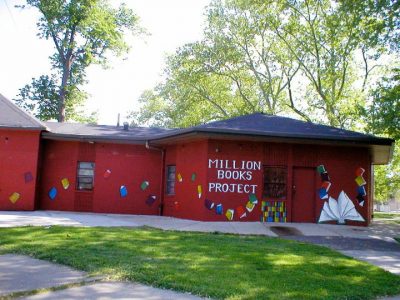 In April 2011, we completed the first phase of our  Million Books Project Mural. Formerly the abandoned Connell Recreation Center in SouthWest Philadelphia, graffiti made the building unappealing. With animated colorful books painted flying around the entire building. We have given this structure a new identity as an essential community resource for adult and youth literacy programs, tutoring, and free books for the neighborhood. Painting worn out benches with stencils of books gave the park some refreshment.
This is also where we have taught drawing and bookmaking and origami to African Immigrant youth from the Africenter.Proposals regarding future murals and art class funding pending. On Tuesday,  April 19, we continued mural painting with a fantastic group of 20 high school students from Build On, working with local African immigrant youth. We convinced the center to donate brand new books they were going to throw out (Harry Potter) due to religious concerns.
Bookmaking, illustrating, and writing combines craft, sculptural, drawing, and writing skills that utilize multiple art teaching tools for varied learning styles and ages. Sketchbooks, journals, and diaries have been a tool historically used by artists to generate ideas. See the Artist's Way by Julia Cameron.