Translation by Volunteer Gloria of the Butterfly Lesson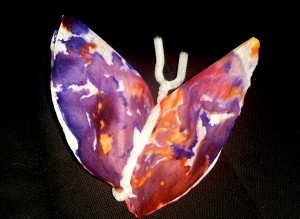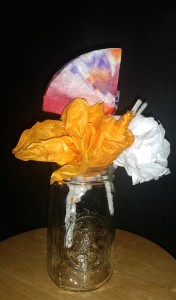 Título del proyecto: Mariposas
Descripción: Hacer mariposas con materiales alternativos
Ideas del proyecto: compasión, ciencia, intrapersonal, teatro, quinestesia
Grado: Preescolar
Vocabulario: insectos, metamorfosis, alas, antenas
Materiales: acuarela, tazones/contenedores para poner los diferentes colores, goteros
plásticos pequeños, filtros de café y limpiador de tubos
Demostración/Instrucciones:
Distribuya un filtro de café a cada estudiante.
Demuestre cómo usar los goteros de plástico (exprima suavemente para que no se
disperse la acuarela).
Una vez se hayan secado las mariposas, pinche el centro del filtro y envuelva un
limpiador de tubos a su alrededor.
Pídales a sus estudiantes que enricen las antenas.
Los/Las estudiantes representan las fases de la oruga haciendo de cuenta que son
orugas, se abrazan a sí mismos/as para formar una crisálida y, por último, rompen
la crisálida y vuelan alrededor del salón en busca de flores.
Discusión:
En el salón de clases hemos discutido la migración y el viaje de las mariposas
monarcas con base en la vida de las mariposas monarcas.
También hemos discutido el papel importante que tienen las mariposas como
polinizadoras y las necesidades de sus hábitats. 
Se discute y compara el ciclo de vida de las mariposas con las fases y desafíos que
enfrentan los niños que crecen por su cuenta.
Reflexiones:
Este es un proyecto ideal para estudiantes más jóvenes para que vuelen por el
salón de clases.
Otra versión de este proyecto se ha hecho con estudiantes mayores y más
avanzados con origami de mariposas.
Hemos grapado mariposas a hilos para hacer móviles e instalaciones.
Las flores de papel de seda son un buen proyecto de seguimiento después de la
discusión del hábitat.
Pintura de mariposas de papel simétricas (doble una hoja de papel por la mitad,
pinte un lado del papel y haga con que el/la estudiante vuelva a doblar el papel
haciendo que la pintura de las alas al otro lado del papel).
¡Puede hacer flores de papel para añadirle un toque especial a este proyecto!
Visitehttps://artsphere.org/creating-legacies-through-art/ para descargar nuestro libro
gratis con planes de lección, incluyendo instrucciones para hacer flores de papel.
Fuentes:
Monarch Butterfly Migration and Overwintering – USDA Forest
Servicewww.fs.fed.us/wildflowers/…/Monarch_Butterfly/migration/index.shtml The
annual migration of North America's monarch butterfly is a unique and amazing
phenomenon. The monarch is the only butterfly known to make a two- way
Monarch Butterfly
Migration www.monarch–butterfly.com/monarch–migration.html Article all about the
how and why of Monarch Butterfly Migration
As Dwindling Monarch Butterflies Make Their Migration, Feds Try
to news.nationalgeographic.com/…/141010-monarch–butterfly–migration–
threatened-plan/
Oct 10, 2014 … As Dwindling Monarch Butterflies Make Their Migration, Feds Try to
…migrating monarch butterflies transformed the lush gardens of Cape May
Monarch Butterflies – National
Geographic video.nationalgeographic.com/video/butterfly_monarch
Los santuarios de hibernación de las mariposas monarcas en México están en
peligro. ¿Están en peligro las mariposas monarcas también?