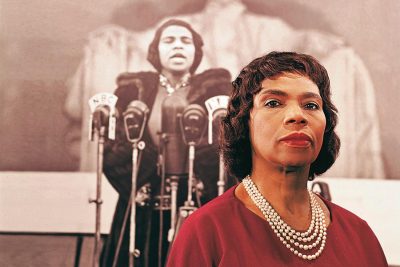 Marian Anderson was a contralto singer who overcame Jim Crow America to become one of the most legendary singers in history. Born in Philadelphia in 1897, Marian started her singing career in the Union Baptist Church youth choir. The conductor, impressed by Marian's talented voice and ability to sing any part of a hymn, whether it was soprano, alto, tenor, or bass, moved her to the adult choir when she was only 14 years old. Her congregation recognized her potential and started a "Marian Anderson's Future Fund," with the money going towards helping her family pay for Marian's voice lessons and performances.  
Marian attended the South Philadelphia High School for Girls. Her teacher, Dr. Lucy Langdon Wilson, brought the famous Italian voice teacher Giuseppe Boghetti to listen to Marian, even though local conservatories turned her away. With Boghetti's support, Marian won a contest in 1925 where she made a solo appearance with the New York Philharmonic Symphony Orchestra. Boghetti then took Marian to Europe to continue with training and doing performances, and in 1935, she made her European debut at the Paris Opera House. Marian had such a successful show that she went on to perform for King Gustav in Stockholm and King Christian in Copenhagen. Her musical abilities were unmatched, given her talents in singing a variety of pieces, including folk songs, arias, and spirituals, in various languages ranging between Russian, French, English, and German. 
Marian came back to American in 1935 for an American public debut at Carnegie Hall. She actually did that whole performance standing on one foot! Marian broke her ankle the day before the performance, but no one knew her ankle was broken because her long dress covered the cast, and she leaned against the piano for support. Her performance at Carnegie Hall was so successful that she was invited by Franklin and Eleanor Roosevelt to perform at the White House, the first African American to receive this honor. She was invited again in 1939 because the President and First Lady were hosting the King and Queen of Great Britain.
Despite being #3 on the country's concert box office, Marian still experienced racism. She was restricted to using the "colored" facilities, so she oftentimes avoided a lot of public interactions by staying with her family and friends and driving her own car. She was barred from sitting in formal rooms, and she was often sent through the back door of the public places she was in. In the South, the press did not refer to her as "Miss Anderson," which was the respectful title to use. Instead, they used titles like "Artist Anderson" and "Singer Anderson."  
The biggest disrespect to her work occurred in 1939, when her manager Sol Hurok, in partnership with Howard University, tried to lease Constitution Hall in Washington D.C. However, the Daughters of the American Revolution (DAR) owned the hall, and they denied Marian access to it because of her skin. First Lady Eleanor Roosevelt was a member of this organization herself, and in protest of the DAR and support of Marian, Eleanor resigned from the organization. The Marian Anderson Committee Formed and petitioned the DAR for their racist actions. 
The First Lady and the Committee were soon able to secure the Lincoln Memorial for Marian's concert that would be overlooking the Mall of Washington. This concert took place on Easter Sunday, April 9, 1939 with a crowd of 75,000 people of all backgrounds coming together to watch Marian's performance. Take a few minutes to watch the linked video to learn more about Marian's performance and hear her sing: Lincoln Memorial Concert | Voice of Freedom | American Experience | PBS 
Throughout her life, Marian received many well-deserved awards. In 1938, she earned the NAACP's Spingarn Award, presented by Eleanor Roosevelt. In 1941, she was awarded the Edward Bok Award for Distinguished Service in Philadelphia. In 1955, she became the first African American to perform at the Metropolitan Opera. President Eisenhower named her a delegate of the 13th General Assembly in the United Nations in 1958. She also received honorary doctorates from over 20 universities throughout the nation, and she was awarded the Presidential Medal of Freedom in 1963 by President Lyndon Johnson. 
Marian gave her last performance in 1965 in Carnegie Hall. She then lived on a farm in Connecticut with her husband until her death on April 8th, 1993. There were over 2,000 people who attended her memorial service to pay their respects. Today, Marian Anderson is remembered as a persevering, legendary musician despite the racism she experienced.
Check out this ASI resource for an informational handout on Marian Anderson that you can color in too! 
Sources: 
https://www.pbs.org/wgbh/americanexperience/features/eleanor-anderson/