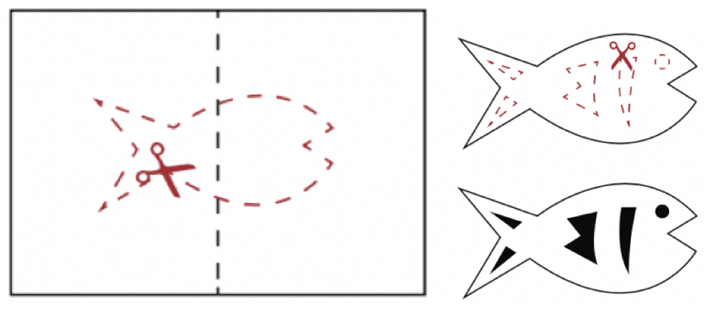 Materials: Acrylic or water-based outdoor house paint (for outdoors), tempera paint and paper for indoors, cardboard (alternative material: used file folders), scissors and tape.
Step 1: Design your own fish on cardboard or manila file folders. Keep the design simple for ease of cutting. Leave a half-inch around the outline to make a stencil. See parts of fish reference: https://www.dnr.sc.gov/fish/anatomy.html
Step 2: Bend a manila folder in half and make center cut to cut out the positive shape. This helps getting started cutting.
Step 3: Keep the positive fish shape. Hole punch or cut shapes out of this to add colors to the first stenciled image once it is dry.
Step 4: Holding stencil in place on paper, use small sponges or rags and dab paint inside stencil.
Step 5: Experiment and personalize your stencil by adding dots or stripes or freehand details. Be creative: a handprint as a tail can be added to an oval stencil to make a fun fish.