Do you want to build a snowman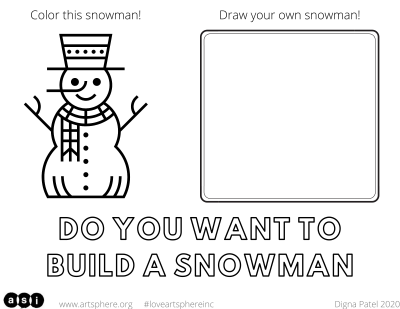 Listen and watch Do You Want to Build a Snowman from Frozen!
Download this handout and Color Along!
Hum the tune from the song. 
Listen again and look at the lyrics.
Watch the movie on a cold and snowy day.
Color the snowman and make sure he or she stays warm.
Draw your own snowman with a hat, scarf, nose, eyes, mouth, buttons, and sticks.
Cut out your snowman and have him or her sing along with you.
Ask a friend or family member what their favorite part about building a snowman is.
Just like Elsa in Frozen, what are your strengths (superpowers)?  What super powers would you like to have and what superpowers would you want to give someone you love. Write a short story about your super powers and tell your snowman.
Watch Frosty the Snowman and compare the snowmen! 
Learn more about the singer of Do You Want to Build a Snowman and tell others! 
Remember to have fun!