Project Title: Did the groundhog see his shadow
Description: Paper bag groundhog puppet
Author: Jedidah Groseclose
Grade level or Target Age Range: Second Grade
Materials: Brown paper bags with pre-glued eyes and nose, brown construction paper for paws, tail, and ears, pipe cleaners for whiskers, and glue sticks
Anticipatory Set: Ask if the students know what groundhog day is and what it means. See if they know the name of the groundhog (Punxsutawney Phil).
Demo/Directions:
                         1. Prepare beforehand by gluing the eyes, nose, and pipe cleaners for whiskers on the bag.
 
2. Pass out pre-cut paws, tail, ears, and the paper bag to all the students and show them where to glue on the pieces.
3. This is a pretty fast project, so they can continue decorating their groundhog puppets after they're done with the initial activity.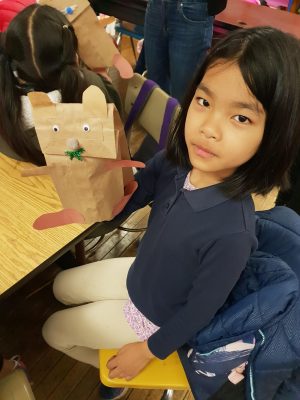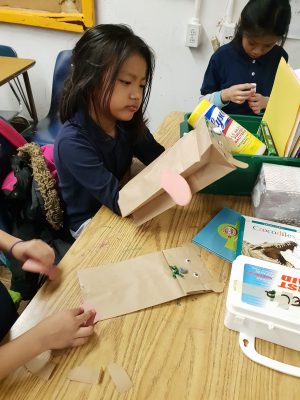 Discussion: Discuss what it means when the groundhog appears. If the groundhog doesn't see his shadow then winter is almost over, and he stays above ground. If he does see it, then winter will be longer and colder.
Instructional Reflection:
I think this is a fun project that explains one of the fun, but less well known American traditions. The students were super excited when we told them that groundhog had not seen his shadow is. They not only were able to learn something in a creative manner, but it's also something they will most likely remember and be able to tell their friends and parents which is important.
"Transforming Lives Through Art"
~Jedidah Groseclose