A collage is an artistic technique of applying and combining found materials to make art.
One of the best ways to recycle old papers and materials around your house is to make a collage! Recycling means to take trash or things you don't use anymore and use them for something else!
Directions:
Collect materials: paper, string, ribbon, old books, newspaper, junk mail, photographs, candy wrappers. Anything you can reuse in your artwork.
Use crayons, markers, colored pencils to color on the materials.
Use scissors to cut up the materials or tear them.
Choose paper to create your art.
Decide what you want to make.
Start pasting your material on the paper within the box.
Here is some vocabulary to know:
Collage: a piece of art that uses a variety of materials by cutting and pasting them on any type of paper.
Portrait: A picture of a person or animal.
Landscape: Outdoor scenes like cities, seas, sky or land.
Abstract: Using colors and shapes that don't have to look like a person or object.
Surrealist: Objects that do not go together.
Recycle: Using materials again for different uses.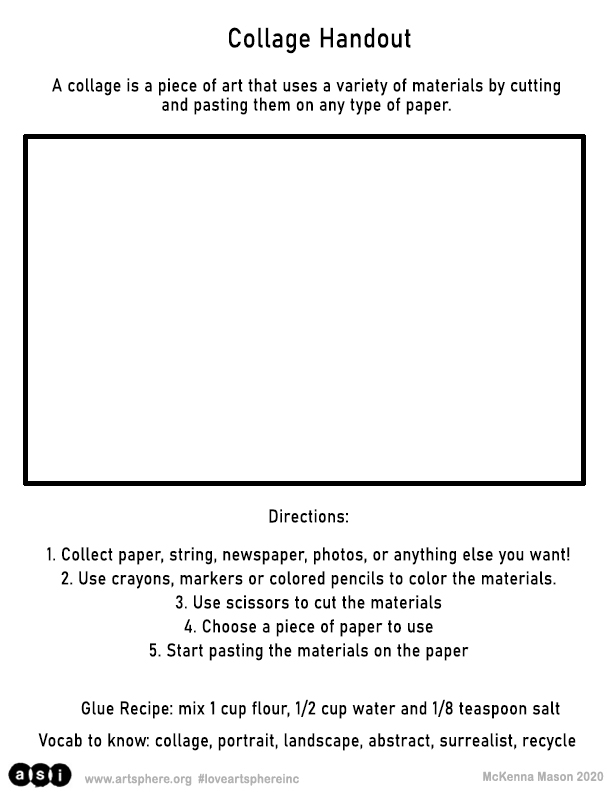 You can even make your own glue if you don't have any at home!
Mix
1 cup of flour
1/2 cup of water
and 1/8 teaspoon of salt.