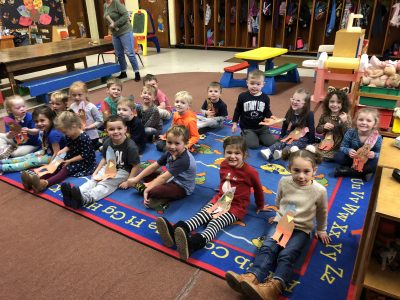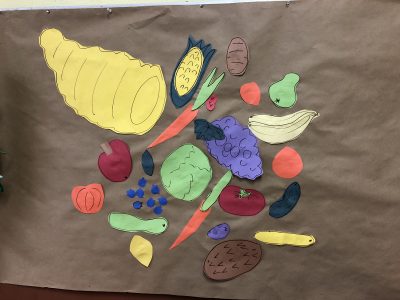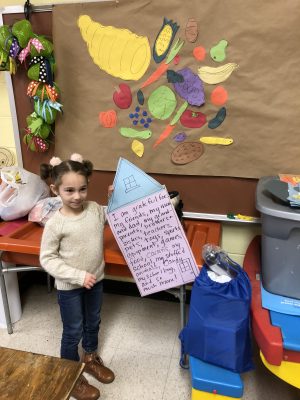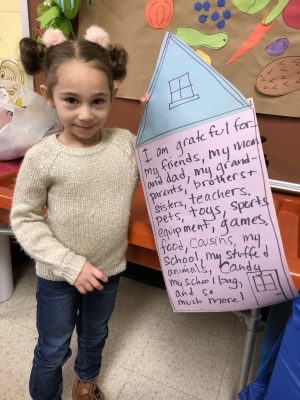 This week at Fishtown Recreation Center, we got to celebrate Thanksgiving!
We started off with a very exciting class learning activity. We cut out fruits, vegetables, and a cornucopia from construction paper, and we asked the children what fruits and vegetables they enjoyed eating. The children were then able to apply glue on the fruit/vegetable and have it stuck onto the big brown board. In this activity, the children got to learn about what a cornucopia is, and all the different types of fruits and vegetables! They were very eager to be able to contribute to the class cornucopia, and they had lots of fun telling everyone about their favorite fruit/vegetable. The end-product looked amazing, and it was a great way to anticipate the upcoming holiday!
Next, we made turkeys out of construction paper. This was the first activity we've done with the children that allowed them to use scissors to make their own cuts on construction paper. We gave the children oval-shaped pieces of construction paper and instructed them to make small cuts on the sides of the ovals to form a feather. We were originally unsure if it was a good idea to allow them to use scissors in this activity, but everyone ended up doing a great job in cutting! We then folded the feather to give it some dimension and glued it onto a turkey body. We also glued on legs and beaks and had the children draw in eyes and wings. Finally, we showed the children how to fold the turkey's legs so that it would be able to sit on a surface or even on our laps! Everyone's turkey turned out adorable, and the children really seemed to enjoy making them and being able to learn how to cut!
Lastly, we wrapped up with an activity in which everyone named something they were grateful for, and we would write it in the construction paper house. We had so many answers, and the children were again very eager to participate. I loved that we were able to get them to be so engaged in our group activities!
One thing I'm definitely grateful for is the chance to be able to work with ASI and an amazing group of children!