Follow the instructions on the handout below to make caramel apples!
Ingredients: One bag of store-bought chewy caramels (Werther's Originals work well), six apples, heavy cream, caramel apple sticks, parchment paper, and optional toppings.
1. Rinse and dry apples. Insert the sticks through the center of each apple.
3. In a microwave-safe bowl melt caramels and three tablespoons of heavy cream. Melt in a microwave for 30 seconds at a time and stir in between until the caramel is smooth and melted.
3. Dip your apples! Then, roll in optional toppings.
4. Place apples on a baking sheet lined with parchment paper.
5. Let set in the refrigerator for 30 minutes.
Try adding fun toppings! Try cookie/Oreo crumbs, sprinkles, mini M&M's, chopped nuts, sea salt, coconut shavings, or anything else you can think of!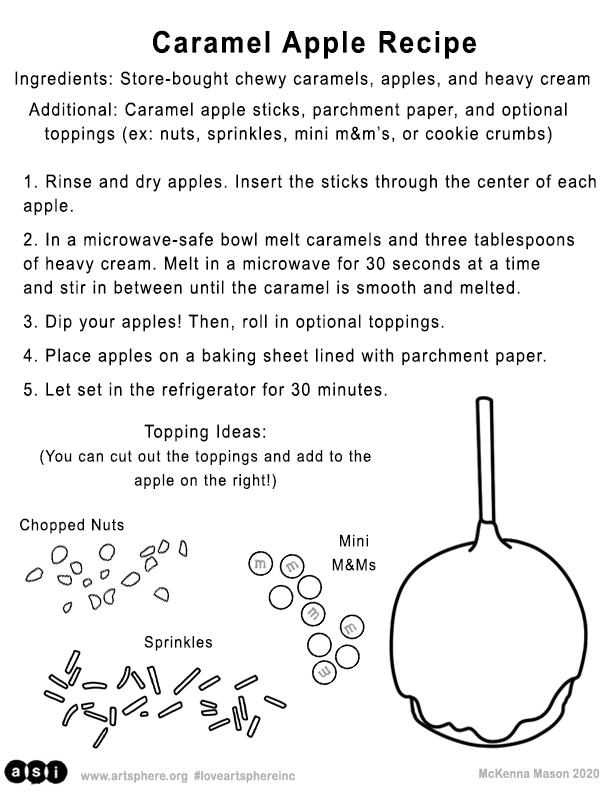 *We hope you enjoy the inspired and fun recipes featured on our website, www.artsphere.org. Art Sphere Inc. is not responsible for the outcome of any recipe you try from the website or any website linked to or from this site. You may not achieve desired results due to variations in elements such as ingredients, cooking temperatures, typos, errors, omissions, or individual cooking ability. Recipes may not have been formally tested by us or for us and we do not provide any assurances nor accept any responsibility or liability with regard to their originality, quality, nutritional value, or safety. Please review all ingredients prior to trying a recipe in order to be fully aware of the presence of substances that might cause an adverse reaction in some users.