James Baldwin was a famous artist and civil rights activist.
Beauford Delaney met the famous writer and when he was more than 20 years younger.
They were both African Americans and sons of southern ministers and they formed a close friendship for the rest of their lives.
Delaney gained the confidence to become an artist like his older friend.
Delaney made this picture fill the whole canvas. He uses lots of layers of paint, blues, greens, oranges, pinks and browns. Baldwin's face stands out and almost lights up with a warm background behind him.
There are lots of paintings that he did of Baldwin over 30 years and all are different.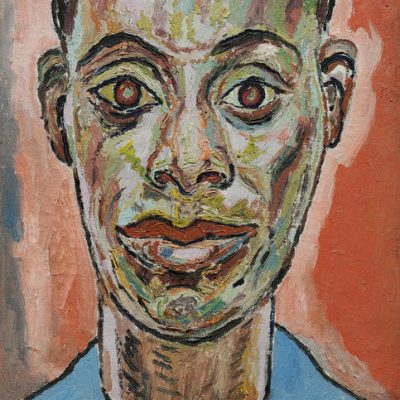 Beauford Delaney was born in Knoxville, Tennessee in 1901 to a Baptist minister and his wife.  At a very young age, he and his younger brother Joseph showed skill in drawing.   An elderly white artist gave lessons to him and encouraged him to study art in Boston.   He went to Boston and remained there for 5 years.  He attended classes at the Mass. Normal Art School and the Boston School of Art and enrolled in evening classes.  He worked at various jobs and visited galleries at the Boston Museum of Fine Arts and the Isabella Gardner Museum.
In 1929, he moved to NYC, and lived in Harlem and later moved to Greenwich Village.  He held his first show at the 135th Street branch of the NY Library and then in Washington, DC.  He did portraits and pastels.  He later did street scenes and interiors in the 1940's using thick paint with broad areas of colors. He met many famous African Americans of the period, and worked part time in an art school in Greenwich Village.
In the 1950's his works became abstract and he received a fellowship to an art colony.  He was financed to go to Europe.  He arrived in Paris and loved the city and stayed there the rest of his life.
He sold his work in France and experimented with techniques of Van Gogh, the colors of Matisse and abstract expressionists.  
Sadly his heavy drinking and bohemian lifestyle took a physical and mental toll.  He suffered a breakdown, and was mentally ill.  He died in an asylum in 1979.  His works were often derived from his life in NYC's lower East Side.