Dear ASI Enthusiasts, Supporters and Volunteers,
Did you know that December is ASI's Birthday month?  That means that besides being a Sagittarius, this year we are actually celebrating our 20th anniversary –Woo–hoo! 
This also means we are having a party in style in the famous " Workshop" of the Bok Building on Thursday, December 13th, 5-8 and you  and your friends and family are invited! Enjoy great live music, refreshments, raffles and more with the creatives and star gazing dreamers that have made ASI so successful.
Art Sphere feels right at home in the enormous Bok building filled with creatives as we keep adding programs to our agenda. Our horoscope may explain why:  "Cheerful Sagittarius is ruled by Jupiter, the largest planet in the solar system. Jupiter is the "happy" planet, full of energy and confidence. Sagittarians often reflect Jupiter's larger-than-life persona. As the zodiac's traveler, Sagittarius is the ultimate free spirit: optimistic, open-minded and ambitious. You're happiest in wide-open spaces with plenty of adventure and excitement. You juggle a million projects, hobbies and friends. The more, the merrier!"
No need to wait until December to see us Friends with all these upcoming events: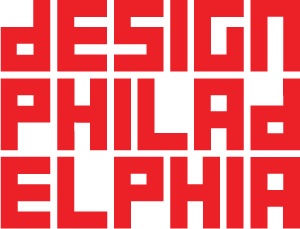 Join us in Studio 502 on Friday, October 12, 2018  from 4:00 PM to 7:00 PM for the South Philly Design Crawl at the Bok  for  DesignPhiladelphia Festival Art Sphere Inc. Open House 

And on Saturday, October 14, from 12:00 noon – 6:00 pm,  for a behind-the-scenes view of art in the making for theBOK Building's POST Open Studios (Read more: http://www.visitphilly.com/events/philadelphia/post-philadelphia-open-studio-tours/)
Want to make a difference, be creative and beat the crowd? Visit us right before the show for our 10-12 noon  Preview Party and craft and relax with us while learning how to make an Ojo de Dios Mandala at our mini fundraising event. Give a $30 donation to ASI to support free art programs for low-income youth, get a free piece of art and make your own while enjoying refreshments at the BOK Building  register now  [email protected] Space limited for only 10 participants!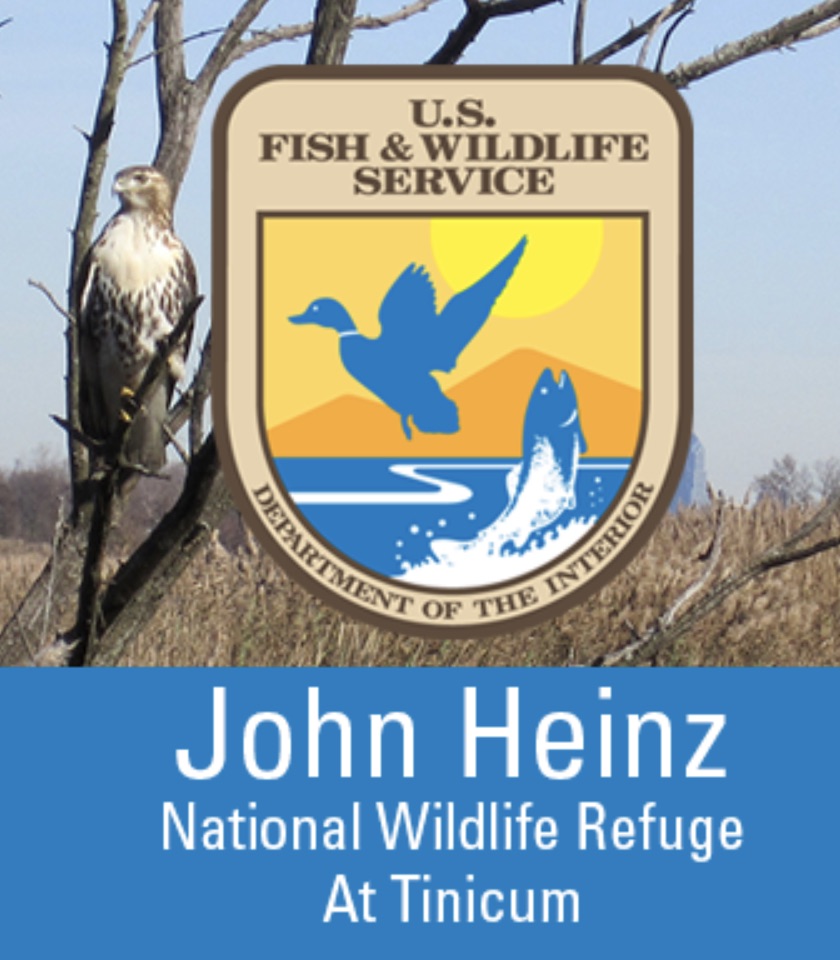 Once again you can find ASI at the Philly Fall Nature Fest at John Heinz Wildlife Refuge on Saturday, October 13th from 9am-3pm.  This year's ASI Art Table will be flying kites bats and butterflies (8601 Lindbergh Blvd, Philadelphia PA 19153)
And on November 16, 9 am – 12:00 noon Freedom Prep High school volunteers will be helping ASI prep student projects and assemble art boxes.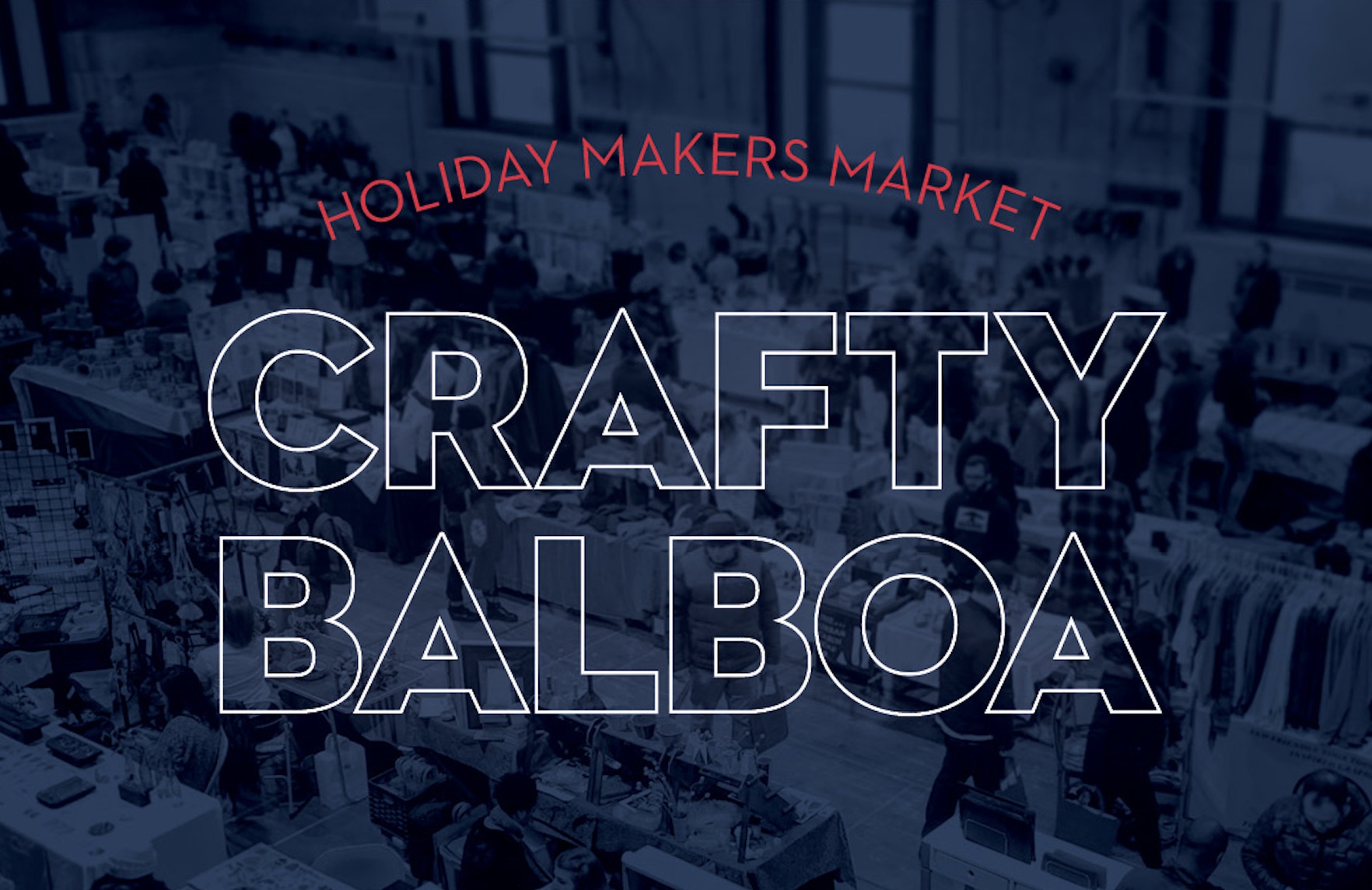 Visit ASI's "Crafts for a Cause" make and take table at Bok 's Crafty Balboa Holiday Sale Event on Sunday, December 8 from 11am to 5pm  and get some wonderful student and volunteer made art! Crafty Balboa is filled with  crafts and art by talents local vendors perfect for the holidays http://www.craftybalboa.com/

Pompom-Pipe Cleaner Birds, Egg Carton Caterpillars this Summer at Nelson Playground
ASI has been giving schools, recreation centers, parks, playgrounds, neighborhood groups and  families the artistic tools to nurture youth to become the problem solvers of the future. We collaborate on art projects together; teaching youth new skills like how to take positive chances, develop creativity and perseverance and find their voice through art.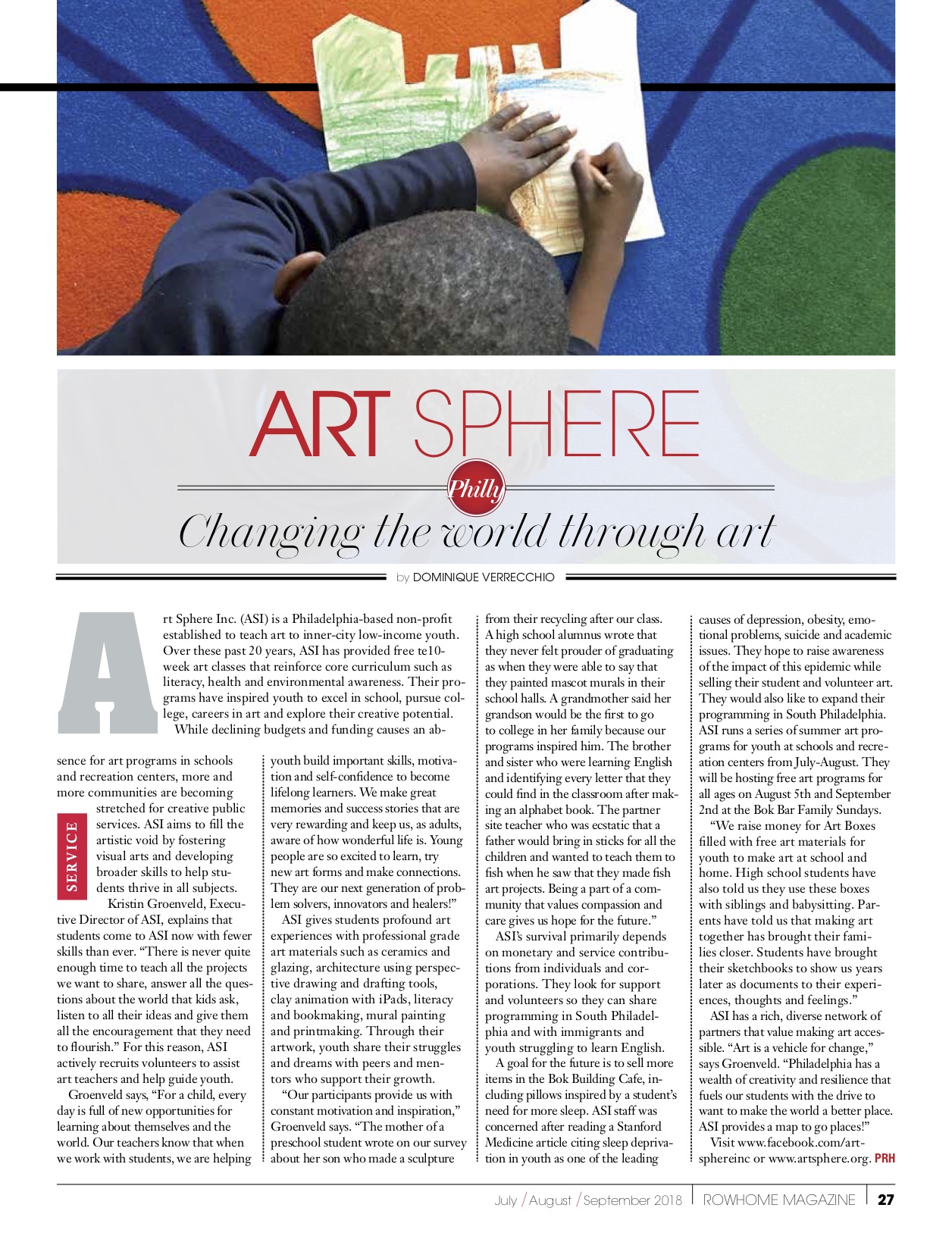 Read more about our work here: ASI Changing the World Rowhome Mag p29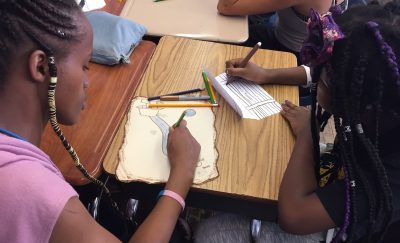 Learn about what we treasure most and get a map to follow your dreams! In our summer programs, we engaged youth in many types of writing projects and you are welcomed to have fun with us too!
These free ASI project worksheets help engage youth in writing:
35 Questions to Get to Know Students" Free Handout
We encourage students, volunteers, and staff to use social media to take empowering selfies with these ASI message bubble handouts. Let the world know who you are!  See ASI free handouts here.
Treasure Chests and Maps at Southwork School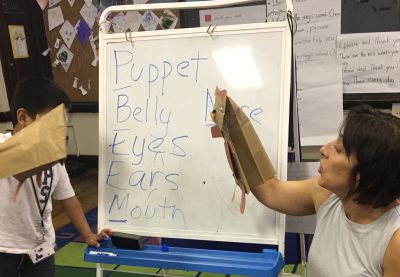 Using hand puppets to raise courage when learning to sound out words!
At Southwark School this summer, immigrant youth used puppets to learn how to read out loud with us, practicing tones, inflections, projecting and using the whole mouth to annunciate. With attention on the puppets, students were able to take chances and speak more confidently. Students' puppets became so well read and able to define vocabulary words that they even had spelling bees. Our daily writing assignments (with prompts and visual instructions) assisted all our preschool and ESL students with reading, writing and bookmaking centered on visual themes.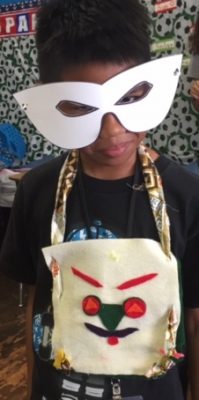 Students this summer created Super Hero Masks and Felt Satchels
Creativity is internationally recognized as one of the critical skills that today's students need to develop. Learn how ASI integrates literacy, technology, recycling, health, diversity and more into our curriculum motivating our students to create. Download  ASI's Book of free art lesson plans here.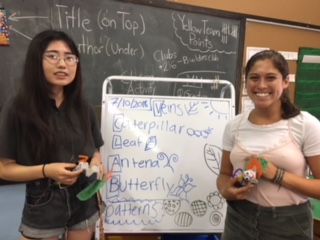 ASI Art Teachers explain how patterns are used to identify insects
 ASI fosters creativity and innovation in preK-12 art education in many ways. Art teachers, Marissa and Hailey inspire their students to be creative, self-directed and collaborative by using thematic environmental themes in their lesson plans to drive personalized artwork and learning. Students create installations of pollinator gardens to learn the important role insects play in food production.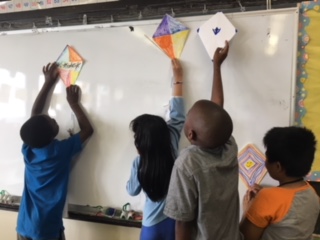 Celebrate Ben Franklin and Decorate and Fly a Kite!Get Electric- Celebrate Ben Franklin and Decorate and Fly a Kite!
We have lots of other make and take art activities and art exhibit events to keep you plugged in to to your inspiration. (See ASI Calendar of events)
ASI Back to School Art and School Supply Drive
Thanks to you! This fall, ASI plans to distribute art materials and school supplies so students could start out the school year prepared to our Preschool Art Programs at Cione and Fishtown Recreation Centers, and ASI's after school Art Programs at Towey Recreation Center, Southwark School and Penn Treaty School. Please continue to help us make a difference by supporting our Art Box Campaign for students who will be new to our programs this Fall.

Students from Summer art programs including: Dendy (shown above), Nelson, Samuels Glavin, Cione, Towey and Fishtown Recreation Centers were so happy to have an opportunity to express themselves and be recognized.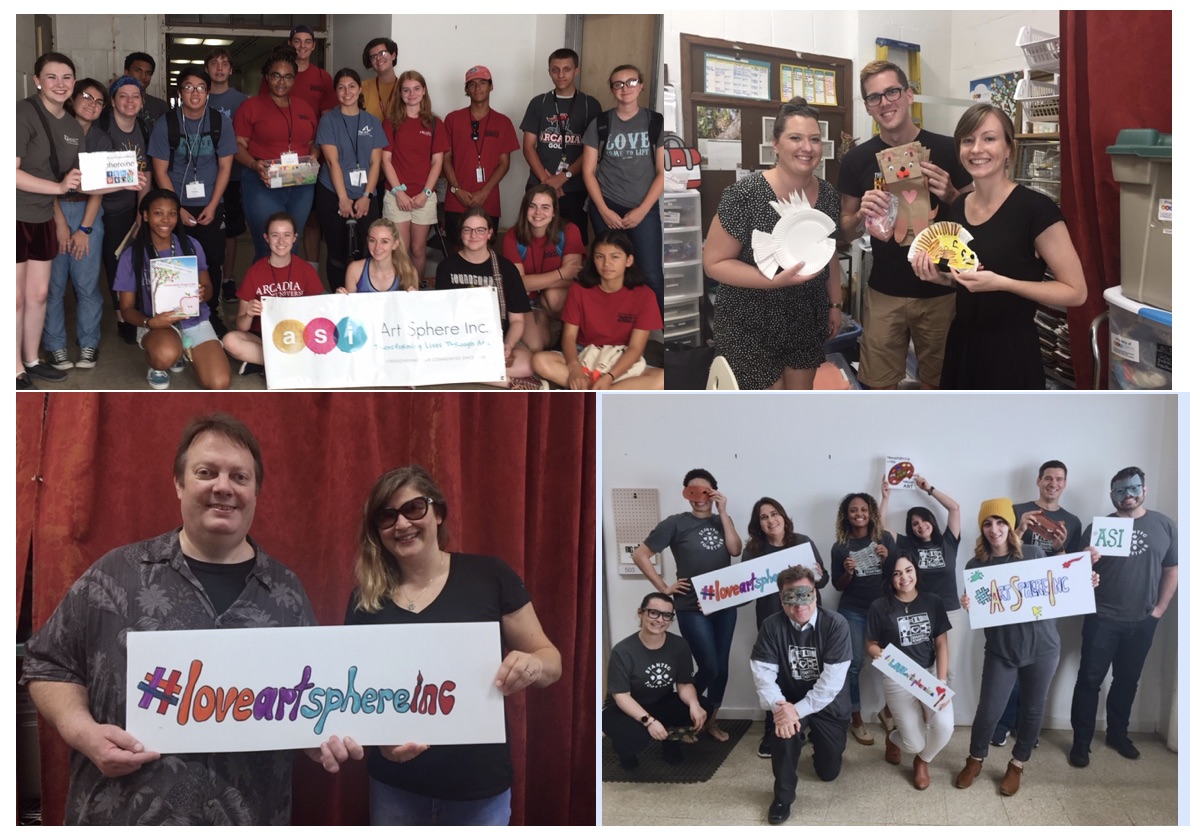 The more, the merrier!:Thank you Arcadia University Students, Drexel Administrator Groups, Decontrol, Giving Groove and Stantec Volunteers for making a difference with ASI these last few months. Sign up to volunteer here!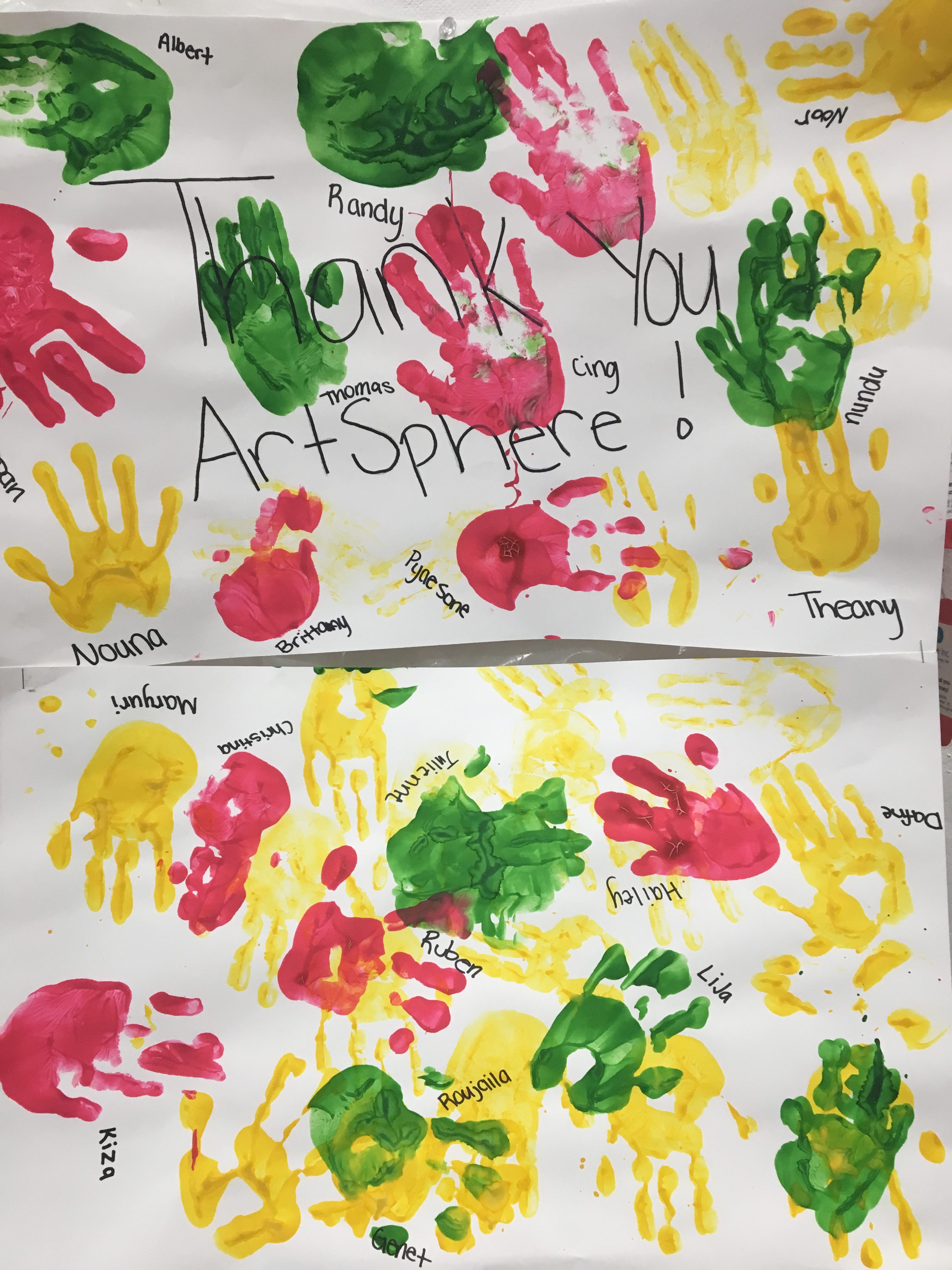 Our students thanked us: we thank you!
We appreciate the generous support of our sponsors who make our meaningful art programing possible including: Penn Treaty Special Services District, Rosenlund Family Foundation, The Seybert Foundation, The Alfred and Mary Douty Foundation, Louis N. Cassett Foundation, Christopher Ludwick Foundation, The Philadelphia Cultural Fund, The Bread and Roses Community Fund, Robert Wood Johnson Foundation,  Stockton Rush Bartol Foundation, Greater Philadelphia Cultural Alliance and the Pennsylvania Council of the Arts.
Help ASI help youth create their visions now by clicking here!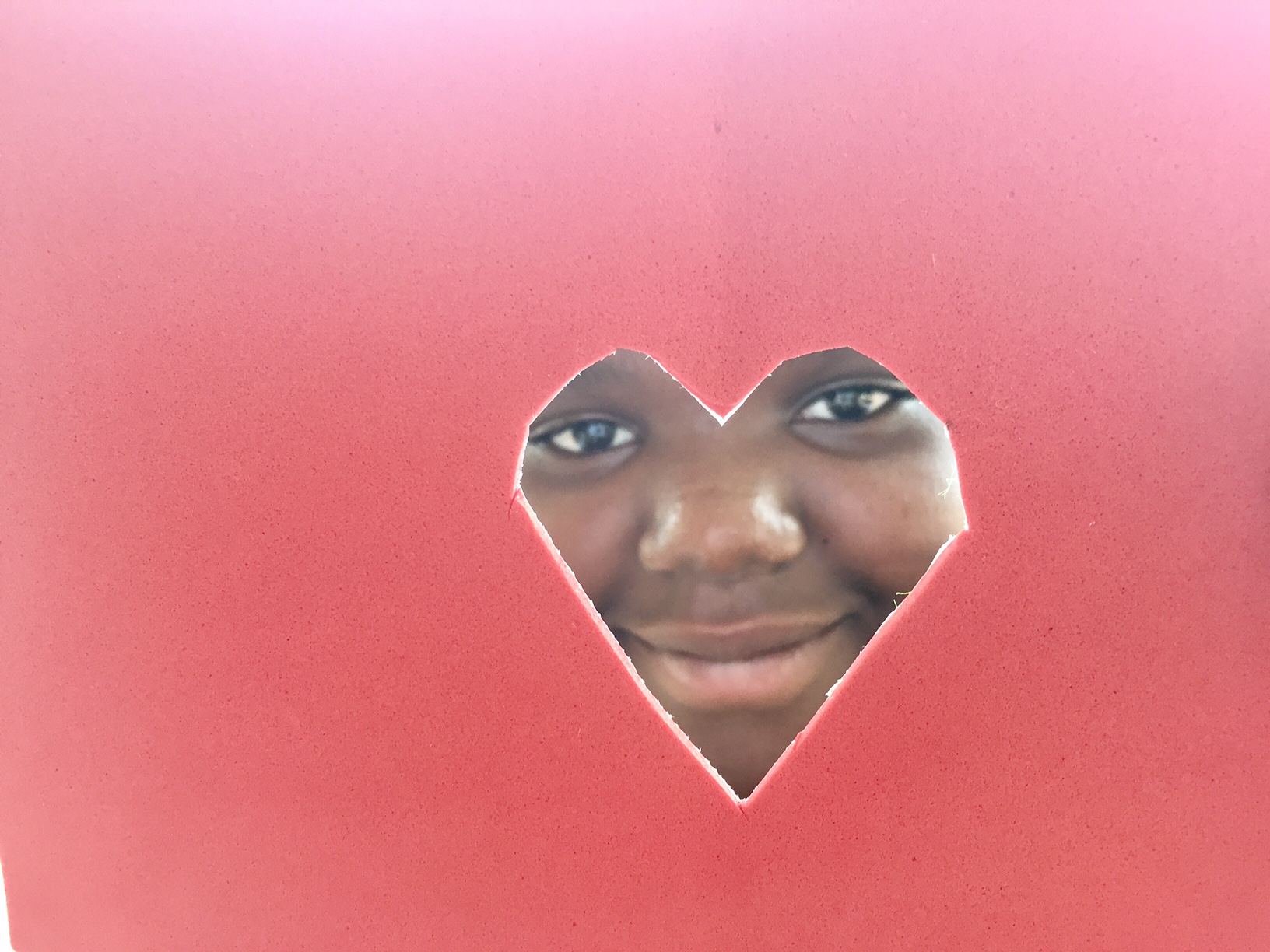 Hear the heartbeat of community! #loveartsphereinc
ASI thanks you for keeping connected to care!
www.artsphere.org | Visit us on Facebook | Follow us on Twitter | Support us on GoFundMe!