So what is it like to work in the Art Sphere office?
Located in the 915 Spring Garden Street Studios building, Art Sphere has an uncommon work environment. In my experience, while sometimes intense and mentally strenuous, working at Art Sphere usually is really fun.
 I joined up with Art Sphere during a stressful grant application process. Quickly I found myself sinking into one of their office couches and guzzling coffee like the many other volunteers rotating through the office. As my time at Art Sphere progressed (and the coffee changed to espresso), I became aware of some of the really funny conversations and stories that we all participated in, ranging from recurring jokes that helped to relieve stress to lighthearted banter about takeout and weekend plans.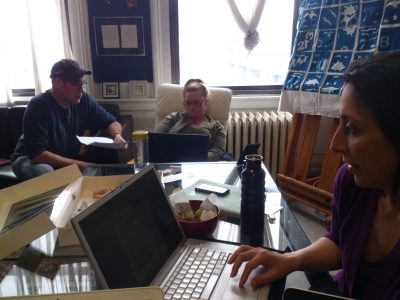 (One of our small group meetings—everyone's hard at work!)
Somehow we can maintain a conversation through group emails and one-on-one collaborative work. Occasionally we find ourselves carrying out a conversation on our own after realizing we've lost the second party to his/her computer screen.
Overall, we enjoy ourselves as we send each other documents and collaborate on upcoming events. Currently we are working on our upcoming open studio! Come check out where it all happens on Saturday April 26th!