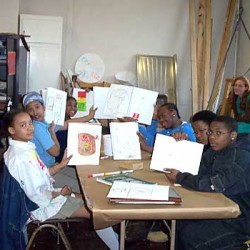 Art Sphere Inc. has implemented conflict resolution art workshops at over 20 sites-in churches, classrooms, and recreation centers-for various age groups.  These programs teach anger awareness and management techniques.  Students explore these topics through personal profiles, studying and sketching cross sections of the brain, and "emotion" traffic lights.
Through art, students enjoy learning to problem-solve and increase their coping skills in scenarios where they may usually fight.  Conflict resolution art gives youth powerful tools to anticipate situations to avoid, positive affirmations for increasing self esteem, and  tools for self-improvement and goal achievement.
By incorporating visual tools, short stories, breathing exercises, role play, and humor, students work through fears, anxieties, and anger towards a more positive and productive self!
Also check out our  Creating A World Without Violence: Curriculum  
There are people who continuously look for conflict. Walk away; the battle they are fighting isn't with you, it's with themselves.~Unknown
 "Do not attach yourself to any particular creed exclusively so that you disbelieve in all the rest, otherwise you lose much good, nay you will fail to recognise the real truth of the matter. Let your soul be capable of embracing all forms of belief." Sufi Ibn'Arabi (12th century)