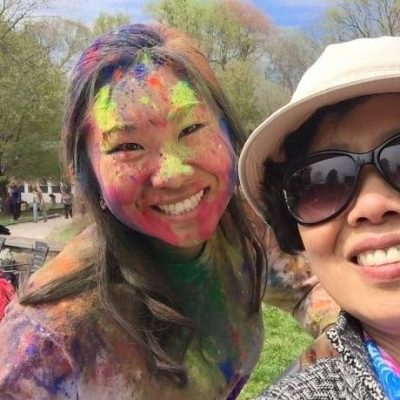 Hi everyone! My name is Alice and I'm excited to volunteer with ArtSphere Inc. with event promotion.
My appreciation of art came from my high school ceramics teacher and art history teacher who both fostered a sense of inspiration, innovation and creative abnormality. Art can be created out of a simple idea one had while watching TV or walking down the block. Art can be visualized from common place items or out of a desire to create a second life for household items. Art has played an impactful role in history in the different culture, which makes it so interesting to study. Most importantly, art should be available to everyone.
Through my travels, I've become ever more passionate about art made from common place items and using it to help manage waste reduction and practice sustainability. For example, turning wine bottles, plastic cups and plastic spoons into lamps.  A favorite art project between my Mom and I is when we sewed my old t-shirts into a quilt I still use today.
I currently reside in South Philly and work in Wilmington, Delaware. In my free time, you can catch me at the gym, running around with a small lab or shopping around at the Italian Market. I'm excited to spread the news about ArtSphere and meet everyone!
My photo is a picture of me enjoying the indian holiday, Holi, in my hometown with my mother.
Thank you for your interest in making the world a better place by sharing your skills with others. Please download our ASI Welcome letter and ASI Manual here. Share the … Continue reading ASI Welcome letter and ASI Manual →
ASI art students and volunteers have made these crafts to benefit ASI free art programs and art boxes for low-income youth. Art Sphere Inc. helps spread the mission of Bok … Continue reading ASI Items for Sale at Bok Cafe →
Hi everyone! My name is Jessica McGuigan and I am excited to be working as a volunteer coordinator for Art Sphere! I am currently a freshman at the University of … Continue reading Meet Volunteer Jessica! →
Share the post "There are so many reasons to volunteer!" FacebookGoogle+LinkedInPinterestTwitterEmail
Hi all, my name is Gabby Werner and I'll be working as Art Sphere's office manager starting this April. I'm a sophomore English major at Drexel University. I'm from Long … Continue reading Meet Volunteer Gabby! →
Hello! My name is Rebecca Hatala and I am a senior at Temple University studying Strategic Communication, with an Art History minor.  I grew up in Northeast Philadelphia, and … Continue reading Meet Volunteer Becca! →