Pompom-Pipe Cleaner Birds, Egg Carton Caterpillars this Summer at Nelson Playground
Dear ASI Enthusiasts, Supporters and Volunteers,
Since 1998, ASI has been giving schools, recreation centers, parks, playgrounds, neighborhood groups and  families the artistic tools to nurture youth to become the problem solvers of the future. We collaborate on art projects together; teaching youth new skills like how to take positive chances, develop their creativity and perseverance and find their voice through art.
We have lots to celebrate as despite all odds we approach our 20th anniversary. It has been an amazing journey.   Save the date of Thursday, December 13th, when we'll be hosting a party at the Bok building, when you'll be invited to enjoy great live music, refreshments, fun activities and hang out with the inspiring people that have made ASI so successful. In the mean time, we have lots of other make and take art activities and art exhibit events to keep you plugged in to to your inspiration.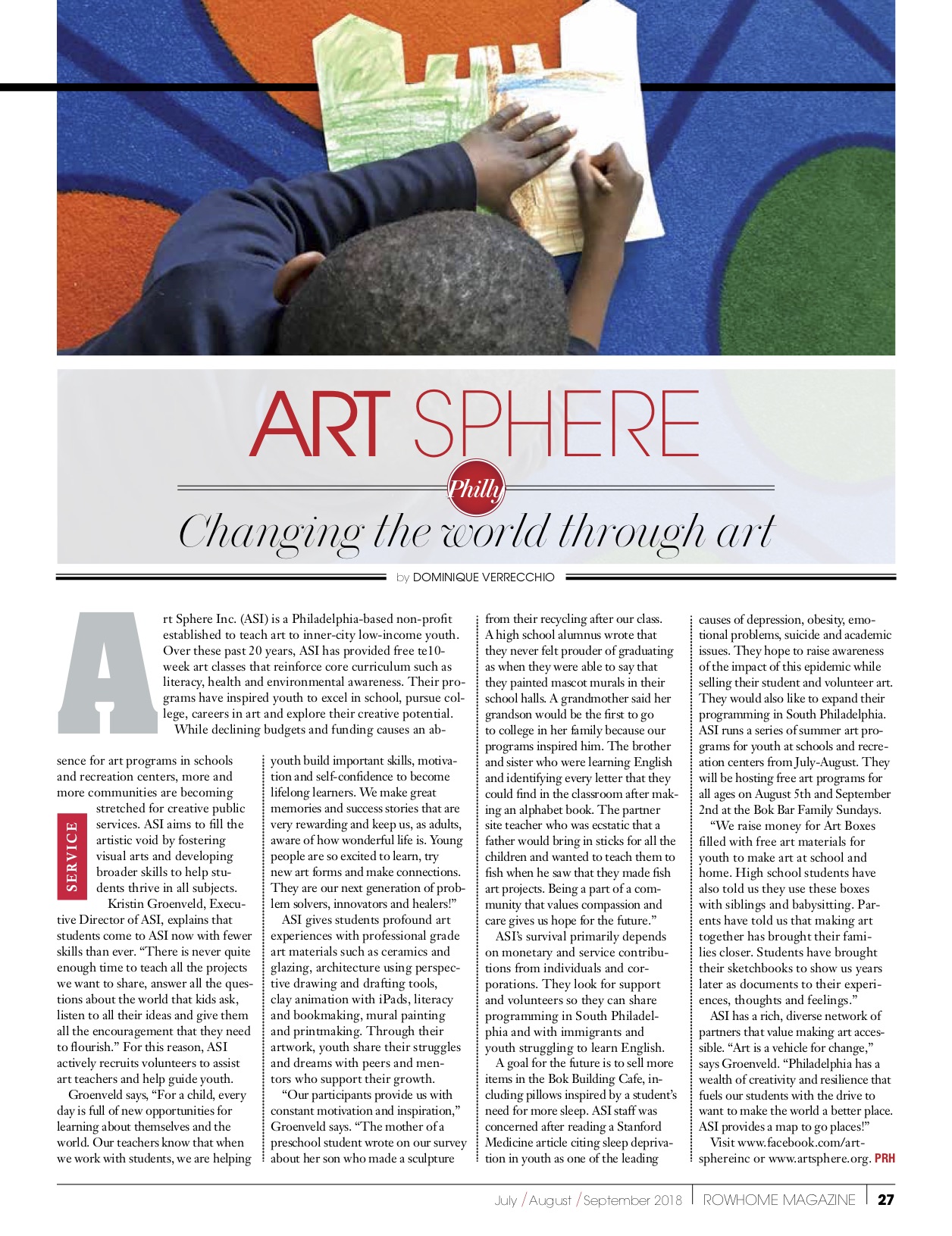 Read more about our work here: ASI Changing the World Rowhome Mag p29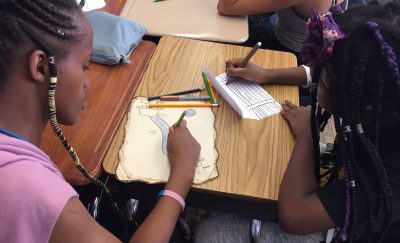 Treasure Chests and Maps
Learn about what we treasure most and get a map to follow your dreams! In our summer programs, we engaged youth in many types of writing projects and you are welcomed to have fun with us too!
These free projects to help engage youth in writing:
Our "35 Questions to Get to Know Students" Free Handout http://artsphere.org/wp-content/uploads/2018/04/get-to-know-students-sheet-1.pdf
Our "Let the world know who you are! We encourage students, volunteers, and staff to use social media to take empowering selfies with these message bubble handouts.
Some examples are: "I am PROUD" "I am A BOOK LOVER" "I am SPECIAL" "I am A HAPPY LEARNER" "I am FULL OF IDEAS"http://artsphere.org/blog/free-printable-handouts-message-bubbles/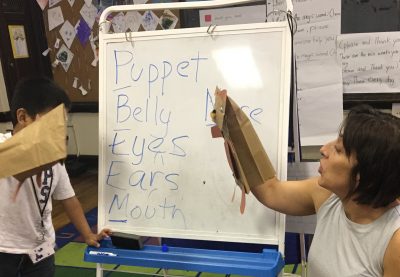 Using hand puppets to raise courage when learning to sound out words!
At Southwark School this summer, immigrant youth used puppets to learn how to read out loud with us, practicing tones, inflections, projecting and using the whole mouth to annunciate. With attention on the puppets student were able to take chances and speak more confidently. With vocabulary on the board,  students read and defined words and then with words erased had spelling bees. Our daily writing assignments (with prompts and visual instructions) assisted all our preschool and ESL students with reading, writing and bookmaking centered on visual themes.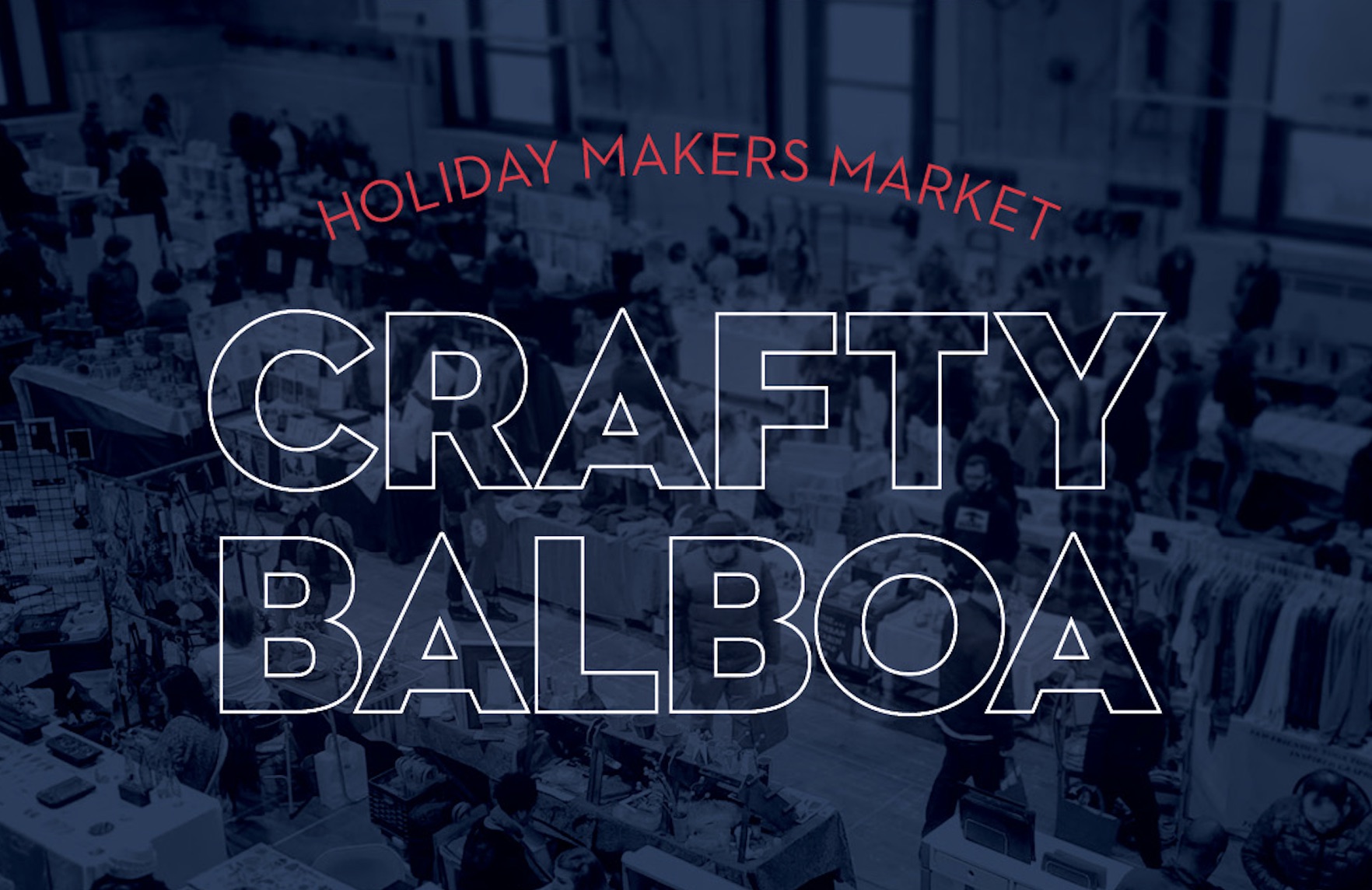 Visit ASI's "Crafts for a Cause" make and take  table at Bok 's Crafty Balboa Holiday Sale Event on Sunday, December 8 from 11am to 5pm to keep the Creative Legacy going and get some wonderful student and volunteer made art!Crafty Balboa is filled with locally made crafts and art by local holiday vendors http://www.craftybalboa.com/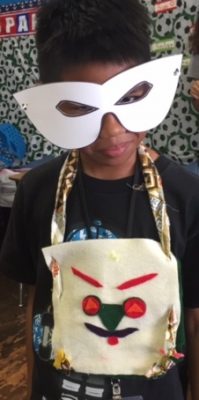 Students this summer created Super Hero Masks and Felt Satchels
You can also find ASI at this year's Philly Fall Nature Fest at John Heinz Wildlife Refuge on Saturday, October 13th from 9-2. Check out our arts and crafts table at this outdoor event!
Creativity is recognized as one of the critical skills that today's students need to develop. Learn how ASI integrates literacy, technology, recycling, health, diversity and more into our curriculum motivating our students to create.
Are you harvesting your creative potential this Fall season? Share an engaging world of possibility, curiosity, healing and discovery available  through art. ASI's Book of free art lesson plans at http://artsphere.org/creating-legacies-through-art/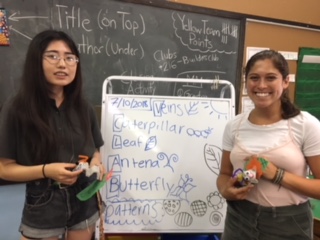 ASI Art Teachers explain how patterns are used to identify insects
 ASI fosters creativity and innovation in preK-12 art education in many ways. Art teachers, Marissa and Hailey inspire their students to be creative, self-directed and collaborative by using thematic environmental themes in their lesson plans to drive personalized artwork and learning. Students create installations of pollinator gardens to learn the important role insects play in food production.
It is through your support that our art students are empowered to learn positive, creative methods of processing in what is often a confusing and harsh world.  Sign up to Volunteer or Intern with ASI! 
Our next Volunteer Orientation will be on  Friday, September 28, 12 noon -3pm at Bok Building. Spring programs run January through April (See ASI Calendar)
Volunteer and Intern Positions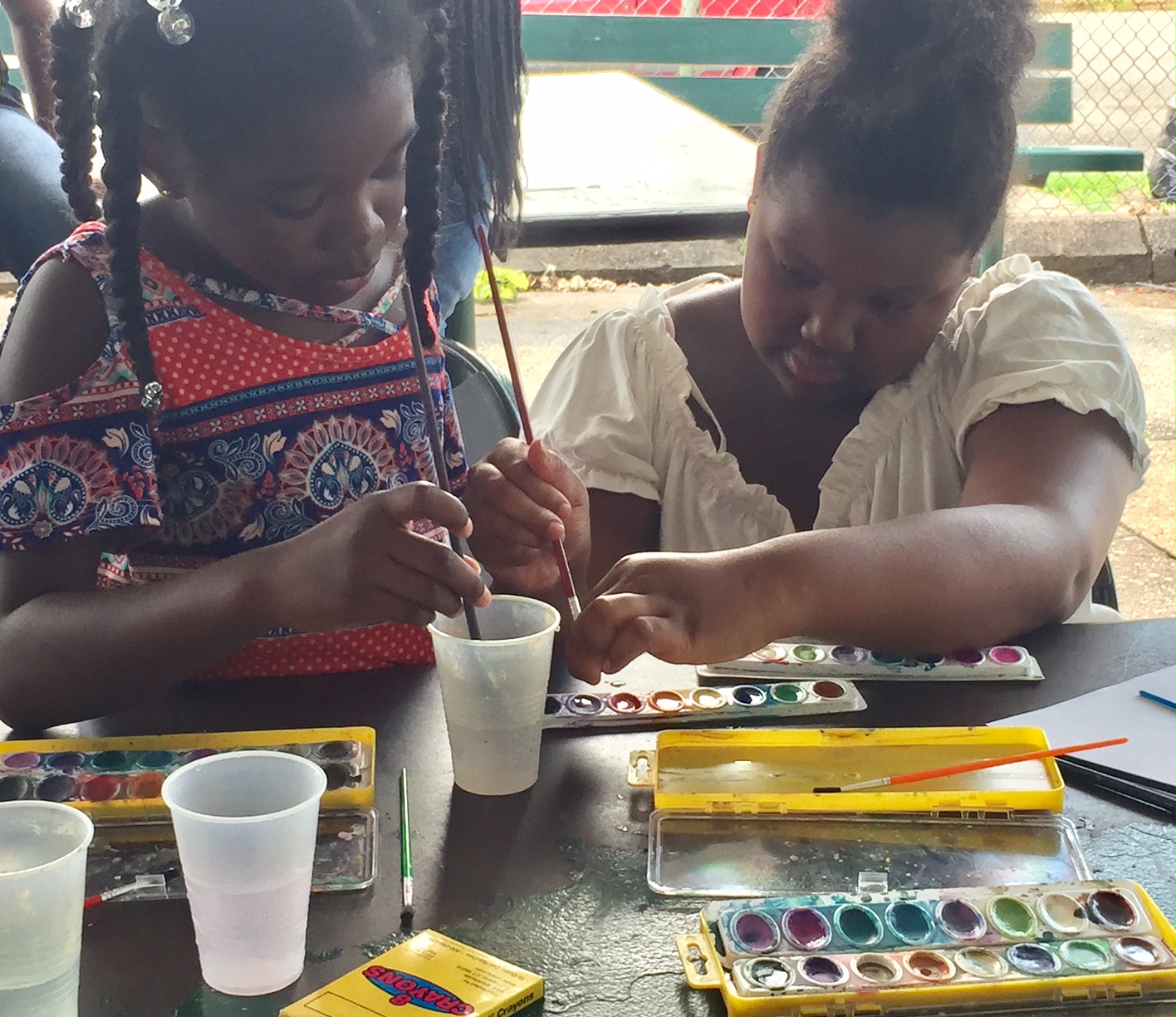 ASI Back to School Art and School Supply Drive
Thanks to you! This fall, ASI plans to distribute art materials and school supplies so students could start out the school year prepared to our Preschool Art Programs at Cione and Fishtown Recreation Centers, and ASI's after school Art Programs at Towey Recreation Center, Southwark School and Penn Treaty School. Please continue to help us make a difference by supporting our Art Box Campaign for students who will be new to our programs this Fall.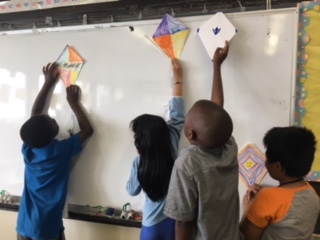 Get Electric- Celebrate Ben Franklin and Decorate and Fly a Kite

Students from Summer art programs including: Dendy (shown above), Nelson, Samuels Glavin, Cione, Towey and Fishtown Recreation Centers were so happy to have an opportunity to express themselves and be recognized.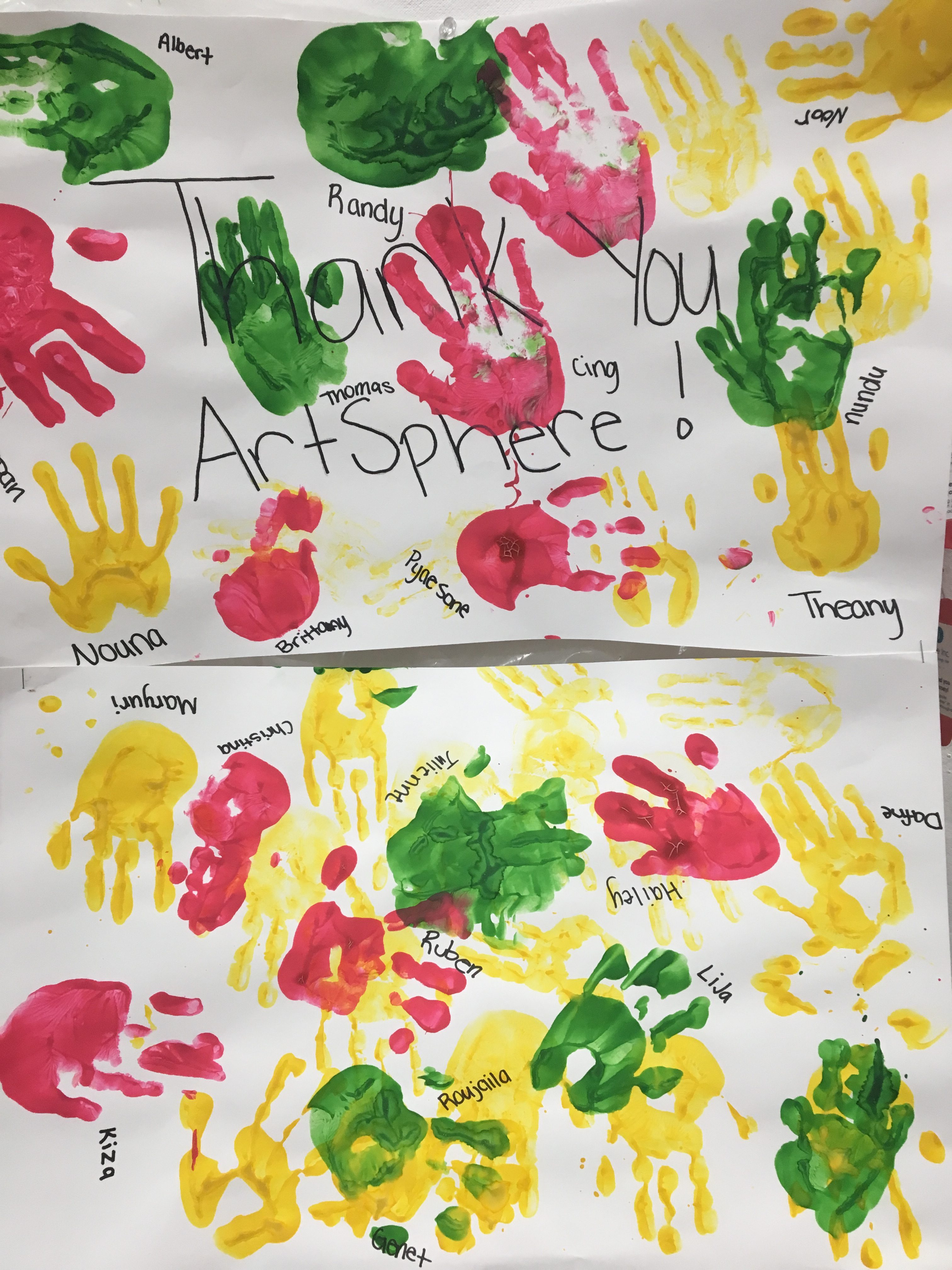 They thanked us, we thank you!
We appreciate the generous support of our sponsors who make our meaningful art programing possible including: Penn Treaty Special Services District, Rosenlund Family Foundation, The Seybert Foundation, The Alfred and Mary Douty Foundation, Louis N. Cassett Foundation, Christopher Ludwick Foundation, The Philadelphia Cultural Fund, The Bread and Roses Community Fund, Robert Wood Johnson Foundation,  Greater Philadelphia Cultural Alliance and the Pennsylvania Council of the Arts.
Help ASI help youth create their visions now by clicking here!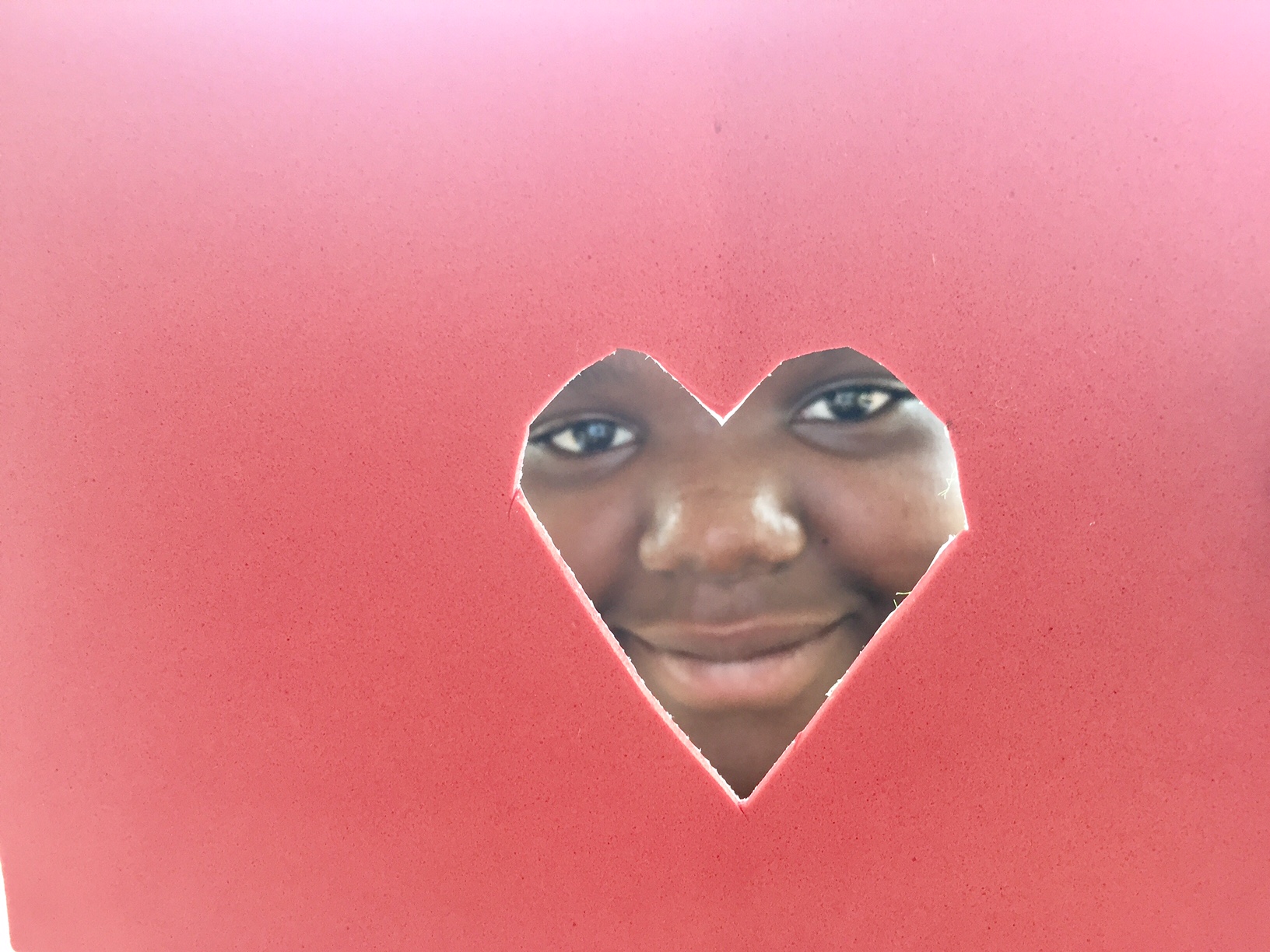 Hear the heartbeat of community! #loveartsphereinc
ASI thanks you for keeping connected to care!
www.artsphere.org | Visit us on Facebook | Follow us on Twitter | Support us on GoFundMe!
Happy Summer ASI Enthusiasts, Supporters and Volunteers! ASI Summer semester has begun, and our newest interns from Drexel University are still hard at work! Here's what they had to say … Continue reading ASI Summer 2018 Newsletter →
My experience at the Art Sphere Inc was very enjoyable and a pleasure. The Art Sphere was different than any other job I had before I enjoyed working at the … Continue reading Reflection →
Programa de Lección Gratis: Búhos de bolsas de papel Nivel: 4 – 7 grado Duración: 45 minutos – 1 hora Metas y Objetivos: Aprender sobre qué hace que los búhos … Continue reading Free Lesson Plan: Paper Bags Owls →
Stair Share the post "Free Lesson Plan: Stair Handout" FacebookGoogle+LinkedInPinterestTwitterEmail
St.Patrick's card Share the post "Free Lesson Plan: St.Patrick's Card Handout" FacebookGoogle+LinkedInPinterestTwitterEmail
House House2 Share the post "Free Lesson Plan: House Handout" FacebookGoogle+LinkedInPinterestTwitterEmail
Gift BOX Share the post "Free Lesson Plan: Gift Box Handout" FacebookGoogle+LinkedInPinterestTwitterEmail
Vegetable Share the post "Free Lesson Plan: Vegetable Handout" FacebookGoogle+LinkedInPinterestTwitterEmail
Fruit Share the post "Free Lesson Plan: Fruit Handout" FacebookGoogle+LinkedInPinterestTwitterEmail